12 Enchanting European Christmas Markets
It's the most wonderful time of the year... to pack your bags, wrap up warm, and jet off to a beautiful European Christmas market! Wander through sparkling fairy-lit streets and city squares, with the scents of mulled wine, spiced hot chocolate and roast chestnuts in the air, and lose yourself in one of Europe's most enchanting winter market destinations.
Take a look at our top destinations for Christmas magic, with flights from Manchester Airport, and start planning your cosy winter getaway today.
See the latest offers on Christmas Market breaks >
Prague
Prague is at its most charming in winter. Weave through its picturesque lanes, see the snow sparkle atop the Old Town Square, and find a warm refuge in one of its welcoming bars. The most enticing stalls can be found filling the squares of Wenceslas and the Old Town, laden with glittering decorations, handmade gifts, and endless sweet treats.
Don't forget to book your airport parking >
Copenhagen
Copenhagen's city centre theme park, Tivoli, holds its own Christmas market, making the Danish capital perfect for festive fanatics. Shop for traditional gifts and decorations, take a ride on one of the park's rollercoasters, and enjoy hearty Danish cuisine while taking in the Christmassy atmosphere.
Elsewhere in the city there are several other Christmas markets, while the Swedish city of Malmö is just a short bus or train ride away, meaning you can experience two Christmas traditions in one trip.
Book a festive break to Copenhagen >
Don't forget to book your airport parking >
Vienna
Wrap up warm and explore Vienna for exceptional coffee, the black tie brilliance of its classical concerts and, of course, its amazing Christmas markets. The largest market is near the Rathaus, where, amid the aroma of roasting chestnuts, stalls sell fanciful gifts, choirs sing, and families ice skate together.
Discover a Viennese Christmas >
Don't forget to book your airport parking >
Krakow
With its castle skyline and picturesque cobbled streets, Krakow's Old Town becomes a living Christmas card over the festive season, especially when it starts to snow. The Christmas market is set on Rynek Glowny, the city's main market square – lined with timber huts and illuminated with fairy lights, with an enormous Christmas tree in the centre, it looks especially magical at night.
The market sells all sorts of Christmas gifts, such as handmade decorations and beautiful carved wooden toys, and there's a big focus on food, so you can tuck into lots of traditional Polish treats, like pierogi dumplings, gingerbread biscuits, and mulled wine, which you can enjoy while watching the carol singing. You can even travel back in time with a traditional coach and horse ride around the old square.
Book your festive break to Krakow >
Don't forget to book your airport parking >
Berlin
Berlin ticks every box for a great Christmas getaway. Domäne Dahlem's rural Advent Market hosts a number of unique activities, including everything from romantic carriage rides through the town to traditional bonfires. There's also a wide range of delectable festive goodies you can feast upon, including handmade nougat, gourmet cheeses, and warm spiced punch.
Turn back the clock and take a trip to Berliner Weihnachtszei's nostalgic Christmas market. It plays host to an ice rink and a 'Christmas Carnival', as well as a medieval market selling old-fashioned baked goods and hot mead served in clay jugs.
Book your festive break to Berlin here > 
Don't forget to book your airport parking >
Budapest
Beautiful Budapest is gorgeous at any time of the year, but it really comes into its own at Christmas, when the two Christmas markets set up, and everywhere you look is festooned with fairy lights.
Budapest takes pride in the quality of crafts, food and drink available at its Christmas markets. Wander through the stalls, nibbling on traditional Hungarian chimney cakes as you pick out the perfect thoughtful gift, then afterwards warm up in one of Budapest's thermal baths.
Get in the Christmas spirit in Budapest >
Don't forget to book your airport parking >
Basel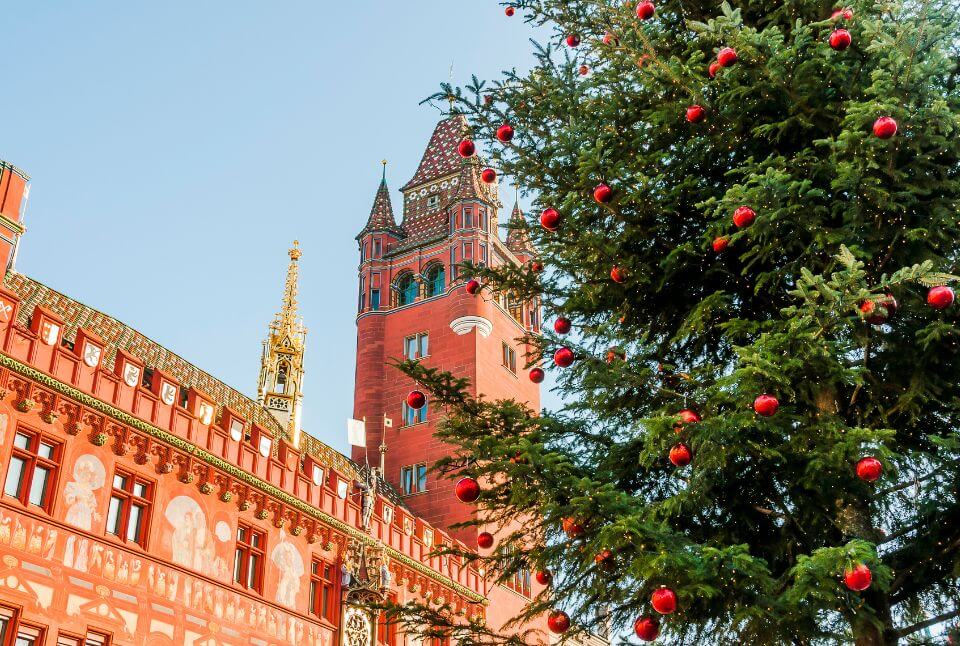 Be captivated by the charm of Basel Christmas Market. This 'city on the Rhine' is considered to be one of the prettiest and largest in Switzerland, often winning awards and topping the lists for Best Christmas Market in Europe.
The festive magic is set on Barfüsserplatz and Münsterplatz, right in the heart of the historic Old Town, where the magnificent Christmas tree takes centre stage, and the wooden chalets and facades of the surrounding buildings are illuminated with an ambient glow. It's the perfect place to buy your Christmas gifts, or tuck into waffles, mulled wine, Basel Läckerli (gingerbread), and delicious Swiss raclette!
Book your Christmas break to Basel >
Don't forget to book your airport parking >
Hamburg
While Christmas markets might be more associated with southern Germany, the North Sea city of Hamburg has thoroughly embraced the tradition. You'll find Christmas markets all over the city, each with a different theme. The main Christmas market at the City Hall takes place under a huge Christmas tree, and has a distinctly traditional feel, while the Winterwald market in the shopping district is themed as a magical festive forest.
Book your Christmas break to Hamburg >
Don't forget to book your airport parking >
Seville
With tens of thousands of lights decorating the city's pretty squares, streets and avenues, there are many magical Christmas markets to enjoy in Seville, but the main one is held at Plaza Nueva, with over 60 Christmas stalls selling traditional food, drink and gifts.
For the arty crown, the Feria de la Artesanía Creativa (Creative Crafts Fair) is known for its beautifully decorated square filled with snowy Christmas trees, where you can buy everything from intricate ceramics to handwoven Andalusian textiles. Or head to La Feria del Belén (Bethlehem Christmas Fair), set by the cathedral, which is famous for its nativity scenes.
Book your Christmas break to Seville >
Don't forget to book your airport parking >
Brussels
Come the festive season, the wooden chalets of Brussels' markets start selling handcrafted gifts and serving delectable food.
Winter Wonders takes place throughout December, and puts on an all-flashing all-twinkling array of festive fun: enjoy circus acts, an ice rink, illuminated art installations, choirs, and a generous helping of amusement rides.
Visit Brussels this Christmas >
Don't forget to book your airport parking >
Salzburg
Salzburg Christmas markets are overflowing with traditional charm and Christmas spirit. In the city centre you'll find the main Christmas market around the cathedral, with stalls selling warm punch, toasted almonds, hot roasted chestnuts, beautiful Christmas tree ornaments, and lots of cosy knitwear. Watch the choir sing carols in front of the cathedral, or visit the nativity scene in the Residenz courtyard.
The Advent Market sees Salzburg Palace transform into true magic at Christmas. A fairy-tale forest sits in front of it, with over 700 trees dazzling with fairy lights and red baubles, and the façade of the palace transforms into an oversized advent calendar with a different scene in 24 windows, creating a truly unique Christmas experience for the whole family.
Visit the Christmas markets in Salzburg >
Don't forget to book your airport parking >
Gothenburg
Gothenburg is one of our favourite festive weekend breaks. The city hosts many cosy seasonal fairs, including Sweden's largest Christmas market, which is held at the Liseberg Amusement Park. Whether you're looking for the sights, sounds and smells of a traditional Swedish Christmas, or the best of contemporary Nordic art and design, you'll find a Christmas market for you in Gothenburg.
While you're here, don't miss a traditional Christmas concert. Enjoy the Swedish custom of a Lucia costume, where a choir dressed in white gowns performs by candlelight. Alternatively, experience the Gothenburg "singing Christmas tree" – a fun series of concerts by some of Gothenburg's best choirs, where the singers dress up as Christmas trees.
Book your Christmas trip to Gothenburg >